Tiger JAX-T18U 4 in 1 Microcomputer Controlled Rice Cooker(1.8L)
Category:
TIGER RICE COOKER
By:
Tiger
Market Price:
CAD$ 399.00
Our Price:
CAD$ 289.00
On Sale Price: CAD$ 269.00
Features:
---
Stainless Steel Design
Big spherical heater and black spherical inner pan
Far-infrared ray coating inner pan
2 memories cooking timer setting
Removable stainless inner lid
Removable stainless inner lid
Removable steam vent
Large easy to use LCD control panel
9 computerized cooking menu settings (Plain rice / Synchro-Cooking / Slow cook / Stream / Porridge / Mixed rice / Sweet rice / Multi-grain rice / Brown rice)
Photos:
---
Description:
---
The TIGER JAX-T10U 4in1 Rice Cooker incorporates the latest in Advanced Cooking Logic cooking technology to take the guesswork out of preparing white rice brown rice sweet rice and a variety of other rice dishes.TIGER s Automatic Cooking Logic system monitors cooking temperatures continuously and senses when cooking is done. The cooker then switches to a Keep Warm mode to keep the meal moist and flavorful until served. In addition, Slow cooking program produce authentic cuisine. Steaming basket and computerized program bring out delicious steaming dishes. A Set and Forget timer allows the user delay cooking for up to 12 hours and with Tiger moden, it will be perfect match for you and your kitchen.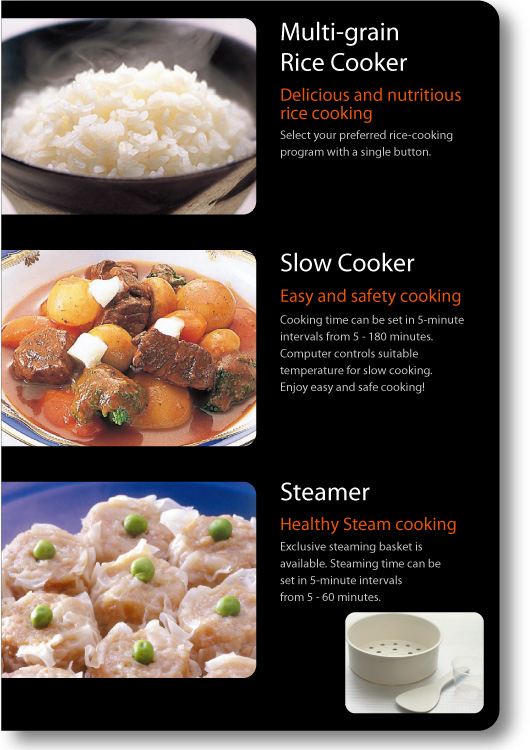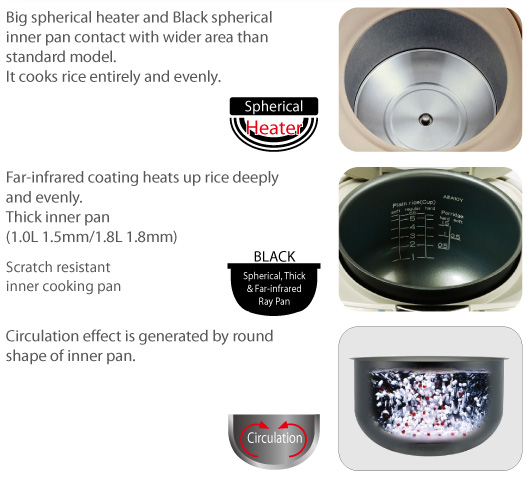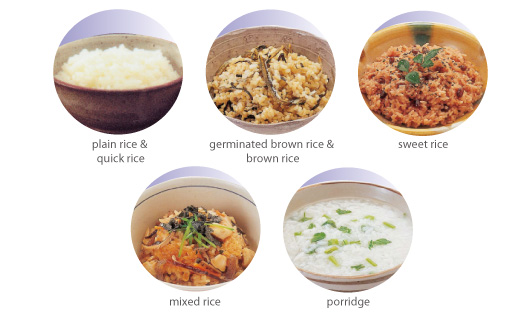 Specifications:
Model: JAX-T10U
Capacity : 1.00L / 33.8oz / 5.5cups
Note: The information above is for reference only.
How To Purchase:
People in Metro Vancouver please visit us and purchase in store
[Richmond] Future Wireless
Address: 1198-8181 Cambie Road, Richmond, BC
(Center of President Plaza)
Telephone: (604) 303-0002
Business Time: Monday-Saturday: 11:00AM - 7:00PM, Sunday: 11:00AM - 6:00PM


Search
Categories
Kitchen Appliance
Range Hood
FUJI Range Hood
KRUGER Range Hood
EURO Range Hood
Soybean Milk Maker
Electric Pressure Cooker
Instant Electric Pressure Cooker
Yasist Electric Pressure Cooker
Sunpertown Electric Pressure Cooker
Joyoung Pressure Cooker
Rice Cooker
TIGER RICE COOKER
ZOJIRUSHI RICE COOKERS
Sunpentown Rice Cooker
Hannex Ceramic Rice Cooker
Joyoung Rice Cooker
Panasonic
Electric-powered Air Pot
Zojirushi Electric Dispensing Pot
Sunpentown Electronic Air Pot
Yasist Electric Air Pot
Tiger Electric Dispensing Pot
Electric Baking Pan
Purple Clay Cooker
Induction Cooker
Thermal Cooker
Electric Stew Pot
Hot Pot
Breadmaker
Lunch Box
Kitchen Blender
Vacuum Cup and Tea Cup
Tiger Handy Jug
Kitchen Scale
garbage disposal
Other Kitchen Appliance
Noodle Maker
Indoor Appliance
Portable Washer / Apartment Washer
Air Conditioner/Fan
Humidifier
Vacuum and Clean Appliance
Garment Steamer
Home Furniture
Home Décor
weighing scale
fashion
Air Purifier
Water Heater
72HOURS Home survival kit
Desk Lamp
Cellphones Accessories
Cellphone Skins
Chargers
Cable Take Pole
electronic products
Media Player
Projection TV
iPad Cover Case
LUV POWER
air mouse + keyboard
Car-related products
High Definition Car Video Recorder
Car Charger
Bluetooth Car Kit MP3 Player
Automotive
sports and health care
Health Care Products
sky
Baby Products
Reading Pen
Bedroom Accessories
CHINESE TEA
parts
Books and Magazines
Joyoung Stainless Electric Kettle
Popular Products

CAD$ 599.00
CAD$ 369.00

CAD$ 199.00
CAD$ 159.00

CAD$ 65.00
CAD$ 39.00

CAD$ 219.00
CAD$ 169.00

CAD$ 599.00
CAD$ 399.00

CAD$ 599.00
CAD$ 329.00

CAD$ 59.00
CAD$ 29.00

CAD$ 12.99
CAD$ 8.99

CAD$ 13.99
CAD$ 9.99
More...
New Products

CAD$ 199.00
CAD$ 109.00

CAD$ 89.00
CAD$ 59.00

CAD$ 59.00
CAD$ 29.00

CAD$ 79.00
CAD$ 39.00

CAD$ 79.00
CAD$ 39.00

CAD$ 219.00
CAD$ 169.00

CAD$ 239.00
CAD$ 179.00

CAD$ 25.00
CAD$ 19.00

CAD$ 25.00
CAD$ 19.00
More...
Contact US:
Future Wireless
Address: 1198-8181 Cambie Road, Richmond, BC
Telephone: (604) 303-0002
Mobile: (604) 306-9306
Email: jerryleungro@gmail.com
Business Time: Monday-Saturday: 11:00AM - 7:00PM, Sunday: 11:00AM - 6:00PM