Yasist Automatic Breadmaker (Out of Stock)
Category:
Breadmaker
By:
Yasist
Features:
---
Make a traditonal rectangular shaped 1.0lb, 1.5lb or 2.0lb loaf
Prepare dough for any bread that require hand shaping, pizza, rolls, pretzels etc
9 Settings include: Basic, Whole Wheat, French, Sweet, Ultra Fast(1.5lb), Ultra Fast(2.0lb), Quick, Dough, Bake
Crust color control functions allows you to select Light, Medium or Dark
Removable non-stick coated baking pan for easy clean-up
Includes and easy-to-follow manual and recipe book and a measure cup & spoon
Photos:
---
Description:
---
For a long time, bread has been the essential part of our daily diet:we love the smell and taste of fresh bread,but unfortunately it has never been easy to enjoy fresh-baked bread in your own home. This process would take too much time, and requires relevant baking experience.
This marvellous household bread maker provides you with the ability to bake fresh bread in your own home. Unlike some automatic bread makers on the market, which due to low manufacturing standards will leave you dissatisfied. This bread maker is just what you are looking for.
The Yasist Automatic Bread Maker is the latest model from professional and well-known bread maker manufacturer. It is a new model developed from earlier, traditional styles of bread makers with better quality and more advanced features. Whether you are an experienced baker or a complete novice, you need only to follow the recipe for fresh and delicious home-made bread. You can also use this machine to make pizza dough, rolls, breadsticks, muffins and even breads taht require hand-shaping if prepared by conventional oven baking.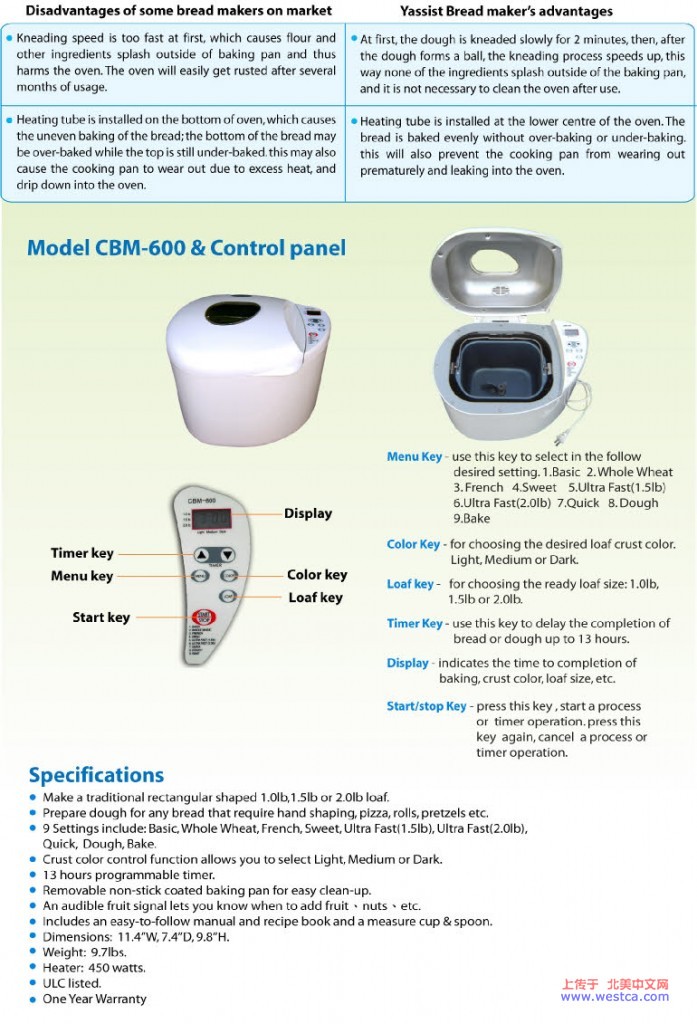 Note: The information above is for reference only.
Search
Categories
Kitchen Appliance
Soybean Milk Maker
Range Hood
EURO Range Hood
Electric Pressure Cooker
Instant Electric Pressure Cooker
Yasist Electric Pressure Cooker
Sunpertown Electric Pressure Cooker
Joyoung Pressure Cooker
Rice Cooker
TIGER RICE COOKER
ZOJIRUSHI RICE COOKERS
Sunpentown Rice Cooker
Hannex Ceramic Rice Cooker
Joyoung Rice Cooker
Electric-powered Air Pot
Zojirushi Electric Dispensing Pot
Sunpentown Electronic Air Pot
Yasist Electric Air Pot
Tiger Electric Dispensing Pot
Wok & Steamer
Electric Baking Pan
Purple Clay Cooker
Induction Cooker
Thermal Cooker
Electric Stew Pot
Hot Pot
Breadmaker
Lunch Box
Kitchen Blender
Vacuum Cup and Tea Cup
Tiger Handy Jug
Kitchen Scale
garbage disposal
Other Kitchen Appliance
Noodle Maker
Indoor Appliance
Portable Washer / Apartment Washer
Air Conditioner/Fan
Humidifier
Vacuum and Clean Appliance
Garment Steamer
Home Furniture
Home Décor
weighing scale
fashion
Air Purifier
Water Heater
72HOURS Home survival kit
Desk Lamp
Cellphones Accessories
Cellphone Skins
Chargers
Cable Take Pole
electronic products
Media Player
Projection TV
iPad Cover Case
LUV POWER
air mouse + keyboard
Car-related products
High Definition Car Video Recorder
Car Charger
Bluetooth Car Kit MP3 Player
Automotive
sports and health care
Health Care Products
sky
Baby Products
Reading Pen
Bedroom Accessories
CHINESE TEA
parts
Books and Magazines
Joyoung Stainless Electric Kettle
Popular Products

CAD$ 599.00
CAD$ 449.00

CAD$ 5500.00
CAD$ 3800.00

CAD$ 4500.00
CAD$ 2999.00

CAD$ 6500.00
CAD$ 4600.00

CAD$ 109.00
CAD$ 79.00

CAD$ 279.00
CAD$ 249.00

CAD$ 169.00
CAD$ 129.99

CAD$ 99.00
CAD$ 59.00

CAD$ 99.00
CAD$ 75.00
More...
New Products

CAD$ 279.00
CAD$ 249.00

CAD$ 24.99
CAD$ 19.99

CAD$ 599.00
CAD$ 449.00

CAD$ 269.00
CAD$ 199.00

CAD$ 15.00
CAD$ 10.00

CAD$ 49.99
CAD$ 39.99

CAD$ 699.00
CAD$ 449.00

CAD$ 650.00
CAD$ 449.00

CAD$ 149.00
CAD$ 119.00
More...
Contact US:
Future Wireless
Address: 1198-8181 Cambie Road, Richmond, BC
Telephone: (604) 303-0002
Mobile: (604) 306-9306
Email: jerryleungro@gmail.com
Business Time: Monday-Saturday: 11:00AM - 7:00PM, Sunday: 11:00AM - 6:00PM